You know, I realize that I am by the standards of the world, overweight.  The doctors would say that my 5′ 4″ frame at 171 lbs is obese actually. 
I think all that is BS and I choose to think of it as carrying 20 extra lbs that could and probably should be shed.  Hence therein lies my summer goal.  Losing 10-20 lbs before the Falmouth Road Race.  Now I found a really cool app called Pacer thank you to my co-worker.  It auto syncs with my health app on my phone, which by the effing way, auto calculates how far I've walked in a day!  This is good!  I've set goals that I'm not off to a remarkably good start at but I'm motivated to progress which is progress in itself.  I want to run more and will now that I'm training.  It's just a 7 miler so not much actual "Training" is needed but just the same, I'm in TRAINING.  I want to eat better meaning no milk, bread, no sugar, no dry creamer in my coffee in the morning are the sacrifices.  Starting this on a holiday weekend was not a good idea.  I've broken all of it in moderation because that's how I got fat in the first place, eating everything I wanted to in "moderation" instead of an actual serving size.  No sugar, yeah well a half a cupcake and a bunch of Hot Tamale's in one day killed that.  I did well today by not eating life savers all day to control my sugar craving.  4 Keurig containers of Hot Chocolate did nothing for my success either but hey, I didn't have a second cup of coffee with dry creamer.  Is that an even swap?  I don't think so.  Missing break is actually helpful because at break we just eat.  I mean like 4 snacks at a sitting eating.  Holy shit I think I eat snacks for the day in my morning break, so that has to go or change.  Eating the same grams in protein as my current body weight seems more challenging than I would like and includes having to log all my food again to see where I'm at.  It's a LOT of protein!  I'm struggling there but I'll figure it out.  Increase my water intake without adding Crystal Light has been ok not great, but easily doable.  All of this is doable.  I started a fitness challenge two weeks ago that didn't get off on the right start.  First I started 6 of them AT THE SAME TIME!  not a good idea.  So we cut that down to 2 and although I am not really following the on / off schedule of the 30 day challenge, I'm on track with both of them to keep going.  I can deal with that.  I'm running more because now that the weather is nice I can get outside.  I could get outside before but I refuse to go be cold and not every day can I head out and hit the gym.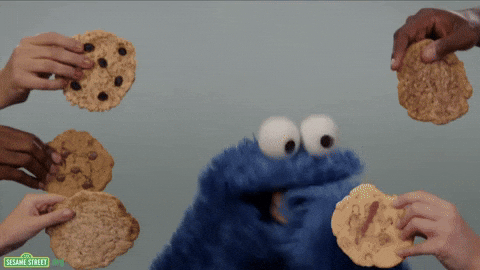 All of these efforts are coming along except one…. The amount of food I'm eating and the absolute compulsion to finish food on my plate.  I didn't realize it until tonight that I am not only serving myself for two, I'm consuming it all because it's there….BECAUSE IT'S THERE!!!  (Yeah, that guy over there is pretty much me eating anything) Are you kidding me?  As I sat eating that delicious and not so good for me Chicken Parm dinner up there (with no-no  bread of course) I realized something as I got up to wrap it up.  I wanted to put something in my stomach to work out on so I put a modest portion on my plate and yes I took a bun.  I thought that I'll  eat half now and finish eating it when I complete my workouts.  I felt actual anxiety in the pit of my stomach wrapping up my plate with food still on it!  What the hell is that all about?  literal butterflies like I would never see that food again.  WOW…just wow!  Fatter people than me have that problem not me.  Well girlie look in the mirror and you'll see one of those heavier people looking back.  Now she isn't "Fat Brenna" but that girl looking back at you every morning is someone who has a serious compulsion to eat.  When you wake up thinking about what is for breakfast, lunch and dinner TOMORROW, you have to get a grip on how you think of food and change it's meaning. You also need to eat slower and drink water with your food so you take up some of that room and help your food expand in your stomach.  Eating slower means feeling fuller closer to the calories that you should stop at.  Now that my plate is in the fridge and I'm digested enough to head down for some core work I'm fine.  No food twitches going on.
Here are my real objectives for the summer:
Eat better portions of better food and eat it slower.
increase water intake
one snack at snacktime
small healthy snacks throughout the day
as much protein up to my current body weight as I can
as many two a days as I can get in during the week following the goals I set in my new app.
I'll keep you posted.
HAPPY RUNNING!